Movement Fix Workshop Online is now approved for CEUs.
Save $40 and get one of our programs for free when you purchase before Saturday
Offer ends in:
Movement Fix Podcast
Episode# 113
The Meniscus and Knee Replacements
Guest: Dave Marcu, MD, CSCS
Topics We Discuss:
Knee anatomy from a surgeon's perspective
Meniscus tears and which ones can heal
Cartilage injuries
Knee replacements and exercise selection
Dr. Dave Marcu, MD, CSCS joins me on this episode to discuss knees.
One of the coolest things about talking with a surgeon about movement and fitness is they actually get inside the body and have the best anatomical knowledge of anyone.
In this conversation, we start by talking about the anatomy of the knee and how Dave thinks about the knee.
We then get into a discussion on anatomical variations that exist that create knee varus and knee valgus deformities.
We follow that up with a discussion on the meniscus, what it does, which tears are fixable and which need surgery, and the long term pros/cons of surgery.
Lastly, we discuss knee replacements (or perhaps better called 'knee resurfacing' as you'll hear Dave explain). We discuss how surgeons perform this procedure, how they fit the knee correctly, and the considerations for training people who have had a knee replacement.
Dr. Marcu is a busy guy and I am thankful for his time coming on the podcast. Thanks Dave!
Background:
Orthopedic surgeon specializing in sports medicine
Certified Strength and Conditioning Specialist
Pain Free Performance Specialist Functional Anatomy Instructor
Previously served as an Associate Master Instructor for the Arthroscopy Association of North America, Fundamentals in Arthroscopy course
Read More about Dave's background
Where to Follow Dave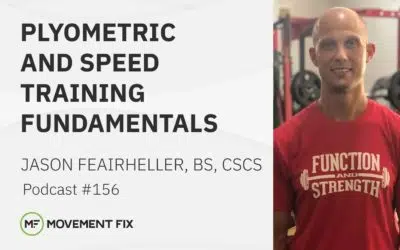 Movement Fix PodcastEpisode #156Plyometric and Speed Training FundamentalsGuest: Jason Feairheller, BS, CSCSPlaces to follow and get in touch with Jason: MultiDirectionalPower.com Instagram @jasonfeairheller You can learn more from Jason in his online course,...
read more