Movement Fix Podcast
Episode# 114
Making the Movement Pie Bigger
Guest: None - Solo episode!
Topics I Discuss:
The Movement Pie
The 4 C's 
My favorite creative exercise
Why I welcome 'competition'
This episode is a bit different than previous episodes.
After visiting Logan University a few weeks ago for the Forward19 Event, I had the opportunity to talk to many students and practicing clinicians and found a somewhat common theme: what do I do to grow my business/differentiate myself when it feels so crowded out there in the 'movement world'.
I felt compelled to dedicate a podcast episode to this.
This is more of a business / mentality type of episode, and my guess is those of you who own a business or want to own a business in the future will find this episode valuable.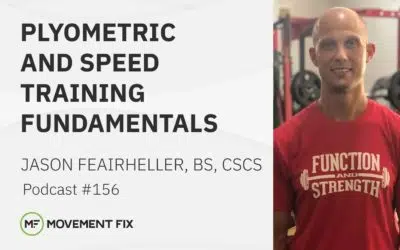 Movement Fix PodcastEpisode #156Plyometric and Speed Training FundamentalsGuest: Jason Feairheller, BS, CSCSPlaces to follow and get in touch with Jason: MultiDirectionalPower.com Instagram @jasonfeairheller You can learn more from Jason in his online course,...
read more