Movement Fix Podcast
Episode# 117
Topics We Discuss:
How to determine if someone is ready to train muscle ups
How to strengthen to improve the transition
Shoulder extension and how to train it
Training grip for beginners and advanced athletes
How to train the dip safely for the shoulder
Wes Hendricks, DC, joins me again on Movement Fix Podcast to discuss ring muscle ups in this episode.
Wes has previously been on the podcast to talk about handstands and pull ups, and now we get into muscle ups.
He is the author of our gymnastics development programs for the handstand, pull ups, and muscle ups and in this episode we get into the details of programming muscle ups.
Specifically we talk about how to know if someone should begin working on this movement, how to start, which positions they need to show they can control, and the sequence of training steps Wes uses to safely build his athletes.
Background:
Where to Follow Wes
Previous Episodes of Movement Fix Podcast with Wes:
Articles Written by Wes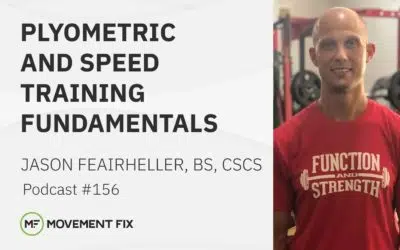 Movement Fix PodcastEpisode #156Plyometric and Speed Training FundamentalsGuest: Jason Feairheller, BS, CSCSPlaces to follow and get in touch with Jason: MultiDirectionalPower.com Instagram @jasonfeairheller You can learn more from Jason in his online course,...
read more