Movement Fix Podcast
Episode# 118
Training for Pain Free Performance
Topics We Discuss:
Ratio of push to pull reps for shoulder health
Ratio of horizontal vs vertical pull reps
Squat variations for hip joint health
How to train the neuromuscular system while maintaining joint health
Dr. John Rusin joins me in this episode to talk about training for pain free performance.
John is a good friend of mine and we see eye to eye on so many aspects of training, such as variations in squatting and how that affects stance, the goal of training to improve longevity of our physical bodies and physical abilities, and how you can do all that in a way where you try to improve your physique.
It's strange to me how many people think it's not good to train in the gym to improve your physique. I am not ashamed to admit that is a big part of my training goal - and it's probably the goal of many people's clients.
To not include hypertrophy work to improve muscle size may be preventing people from achieving one of their goals. That doesn't mean other things aren't important, but let's be honest with ourselves with what we want. There is nothing wrong with wanting to physically look good.
John is realistic with this as well and combines hypertrophy training, power training, and other types of work into his programs and training systems.
Background:
Where to Follow John
Previous Episodes of Movement Fix Podcast with John:
Programs we've done together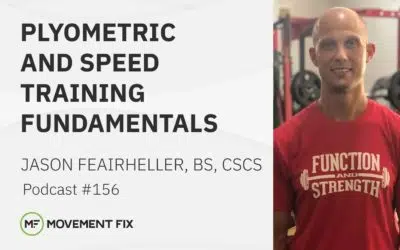 Movement Fix PodcastEpisode #156Plyometric and Speed Training FundamentalsGuest: Jason Feairheller, BS, CSCSPlaces to follow and get in touch with Jason: MultiDirectionalPower.com Instagram @jasonfeairheller You can learn more from Jason in his online course,...
read more