Movement Fix Podcast
Episode# 119
GPP and CrossFit Programming
Topics We Discuss:
Chris' programming leading up to competition
How and why he would modify workouts
Programming for people who want to be fit for their life
Life and training after competitive CrossFit
Chris Spealler, one of the first CrossFit Legends, joins me on this episode.
I have been a huge Speal fan since basically 2007 when I first started doing CrossFit. It was a pleasure to have him on the podcast this episode and chat about his training, how it shifted over time, what his training looks like now that he isn't competing on the main stage, and what drives him now.
Interestingly, Speal discusses how much he modifies his workouts and how he determines that. I think in a world where everyone is so focused on achieving a workout no matter what, Chris is always tweaking his workouts based on how he feels that day - this should be something we all do.
Thank you Chris for coming on the show!
Background:
Where to Follow Chris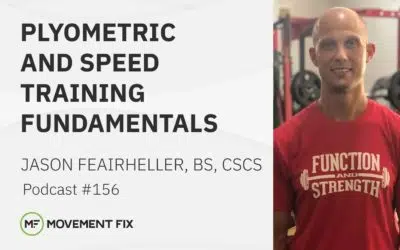 Movement Fix PodcastEpisode #156Plyometric and Speed Training FundamentalsGuest: Jason Feairheller, BS, CSCSPlaces to follow and get in touch with Jason: MultiDirectionalPower.com Instagram @jasonfeairheller You can learn more from Jason in his online course,...
read more